Program
Spruce Avenue School provides students with an excellent educational foundation and everyone - staff, students and parents -plays a crucial role in that educational experience. We are committed to constantly seeking ways to increase student learning and success. We do this by focusing on developing and sustaining excellent teacher practices through the vehicle of high functioning collaborative teacher teams.
At Spruce Avenue School, we offer students the full complement of core classes as outlined by the Alberta Provincial Curriculum. Our staff are committed to adapting curriculum to meet the varying needs of students and providing the support necessary for their success.
Parents play an important role in supporting their child in learning and shaping the way they view their education. Learn Alberta has developed a quality resource to assist parents in their child's education entitled "My Child's Learning: A Parent Resource". This resource is intended to help parents develop an understanding of the Alberta Curriculum to better support their child in learning. For more information about the Alberta Curriculum please visit the Alberta Education Website.
There are five main core areas to the curriculum. These are Language Arts, Mathematics, Physical Education, Science and Social Studies.
Language Arts
This program provides students with a solid foundation of skills, acquired thought a broad range of educational activities. Students study various literary forms such as novels, short stories, film studies, poetry and drama. Students experience and respond, through oral and written presentations, to a wide variety of literary forms and genres, including novels, short stories, non-fiction and fiction, and drama. Technology, vocabulary building in context, reading comprehension, grammar, research, creative and functional writing is emphasized. By incorporating these styles and approaches, students develop the ability to communicate in their own unique and effective manner.
As stated in the Program of Studies, language is an enormous part of our personal identity and helps us form relationships, extend our learning, reflect on what we have learned, and contribute to discussions. We can enhance our learning by using what we already know and reflecting on our prior knowledge to extend our understanding. The ability to use language effectively enhances learning experiences and helps us become lifelong learners. Lastly, the ability to use language prepares us for the changes in society and technology that affects how we use language to think, communicate, and learn.
The goal of Language Arts is to help each student understand language, and use it confidently in a variety of situations to communicate and learn. There are six main areas of Language Arts: listening, speaking, reading, writing, viewing, and representing. All of these areas are interrelated, and using them together strengthens our ability to develop critical thinking skills, communicate ideas and feelings, and practice skills using increasingly more challenging learning materials.
Mathematics
This program strives to enable each student to achieve personal excellence in their mathematical learning. Our purpose is to enable students to:
communicate and reason mathematically
make connections between mathematics and their everyday experiences
develop higher order thinking and problem-solving skills
appreciate and value mathematics
become life-long, inquiring learners
There are four main areas (strands) in the Mathematics curriculum: Numbers, Patterns & Relations, Shape & Space, and Statistics and Probability. Within these strands, we use a variety of tools such as models, manipulatives and technology to help students make concrete and abstract mathematical connections to the world around them. By becoming mathematically literate, our students will be able to use mathematics to contribute positively to our community and society.
Science
This program encourages students to develop a critical sense of wonder and curiosity about the world around them. Students need the skill to find answers. And to find answers you need to start by asking the right questions. Students who can articulate good focusing questions can search anything out. A focus of the teaching philosophy at Spruce Avenue is helping students develop the skills to ask essential questions. "What is important for me to know?"
Once students have developed great questions they can test their hypothesis. Students are encouraged to see problems with an open mind and collect accurate data. During our experiments and discussions students are asked to critically observe what they see and to accurately record their results. Students may be tempted to jump to conclusions that others have already made instead of seeing what is really there. Our science program is focused not on "What should I look for?" but rather "What do I see?"
Finally, students must be able to make sense of those observations. So once we've asked the right questions and made good observations we brainstorm possible solutions. Explanations and theories help to explain what we see. We can apply this understanding to develop technology, solve problems or further our curiosity. Students are coached to have an attitude of compassion for life and consideration for the impact of their decisions on the environment.
Social Studies
Grade 7 provides a comprehensive examination of Canadian history preceding and following Confederation. The concept of intercultural contact is introduced through an examination of migration and immigration. Grade 7 forms the foundation for the continued dialogue on citizenship and identity in Canada.
Grade 8 expands on the concept of intercultural contact and continues to develop historical thinking skills through an examination of past societies in different parts of the world. Students will examine issues related to contact between societies with differing worldviews. They will explore elements of worldviews and how these views are expressed by people living in different times and in different places. Throughout this inquiry, students will reflect on their own worldviews and assess the influence that the past has had on the present.
Grade 9 focuses on citizenship, identity and quality of life and how they are impacted by political and legislative processes in Canada. The role of economic systems in Canada and the United States will also be examined.
Physical Education
Strong evidence exists that physical activity contributes to the overall well-being of individuals. People of all ages can substantially improve their health and quality of life by including a moderate amount of physical activity into their daily routines. Participation in physical activity contributes to physical, mental and social well-being providing benefits to the individual and the community for which they are a part of.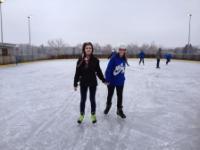 The aim of the Physical Education program at Spruce Avenue is to enable individuals to develop the knowledge, skills, and attitudes necessary to lead an enriched and active life. Our students will acquire an appreciation of the health benefits that can result from physical activity by means of:
acquiring skills through a variety of developmentally appropriate activities.
interacting positively with others through demonstration of leadership and followership skills
assuming personal responsibility to lead an active way of life.
The fundamentals which strengthen our Expected Learner Outcomes (ELO) has been built into our Physical Education program, creating a desire in our students to participate and thus placing physical activity within a broader perspective of total fitness and well-being that encompasses the entire experience of movement - physical, mental, emotional, and social dimensions.
Here at Spruce Avenue, our Physical Education program is also enhanced through opportunities in such activities as intramurals and interschool athletics and community-based sport and recreational activities.